If you'd like legislative information right to your inbox on a weekly basis during the session, please sign up for our

legislative updates email list here.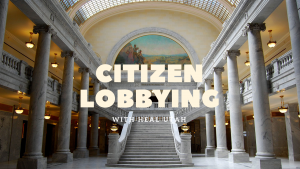 Want to lobby with us at the Capitol or get involved this session in other ways? HEAL Utah will be at the Capitol in room 105 every Tuesday and Thursday during the session from 9:30-12:30 to help you lobby. Sign up to lobby here, learn how to lobby at the very bottom of this page or here, and email our Grassroots Organizer, Noah Miterko, at noah@healutah.org to get involved in other ways.
Be sure to check out the HEAL Utah Capitol Report on Facebook and YouTube, which recaps each week during the legislative session.
Our tracker will be updated on a daily basis during the 2019 legislative session.

 
If you are using a mobile device or tablet, please scroll horizontally in the table to see more!
2019 Legislative Bill Tracker
HEAL Issue Area
Bill Number
Bill Name
Sponsor
Description
Stance
Status
Clean Air
HB0098
Freight Switcher Emissions Mitigation
Rep. Stephen Handy
Creates procedures and terms for grants issued for the reduction of freight switcher locomotive emissions and requests $2 million to help repower existing switcher engines in the non-attainment areas.
Support
Senate/ 1st reading (Introduced)
Clean Air
HCR003
Concurrent Resolution Urging the Environmental Protection Agency to Update Switcher Locomotive Emission Standards
Rep. Stephen Handy
Urges the EPA to develop and make more stringent emission standards for switcher locomotives.
Support
Senate/ 1st reading (Introduced)
Energy and Climate
HCR002
Concurrent Resolution Supporting Renewable and Sustainable Energy Options to Promote Rural Economic Development
Rep. Patrice Arent
Promotes the continued and increased development of renewable energy in rural areas of Utah.
Support
Draft of Enrolled Bill Prepared
Clean Air
HB0148
Vehicle Idling Revisions
Rep. Patrice Arent
Strikes language that limits the ability of municipalities to enforce anti-idling ordinances.
Support
Senate/ received from House

Clean Air
HB0139
Motor Vehicle Emissions Amendments
Rep. Angela Romero
Tampering with a car's engine in order to spew stacks of black smoke on demand (known as "rolling coal," this is a trend that releases excessive vehicle emissions) is illegal. This bill would increase the penalties and improve the reporting system for those who tamper with engines to "roll coal."
Support
House/ 2nd reading

Energy and Climate
SB0146
Sales Tax Exemption Revisions
Sen. Derek Kitchen
Gives a sales tax exemption for residential, commercial, and utility-scale energy storage
Support
Senate/ to standing committee
Radioactive Waste
HB0220
Radioactive Waste Amendments
Rep. Carl Albrecht
Allows exceptions to the current ban on the disposal of Class B and C radioactive waste in Utah to be made by the Director of the Division of Waste Management and Radiation Control.
Oppose
LFA/ fiscal note sent to sponsor
Senate 2nd Reading Calendar

Clean Air
HCR011
Concurrent Resolution Encouraging the Purchase of Tier 3 Gasoline
Rep. Suzanne Harrison
Encourages the purchase of Tier 3 gasoline by both retailers and consumers.
Support
Senate/ 1st reading (Introduced)
Energy and Climate
SB0111
Energy Storage Innovation, Research, and Grant Program Act
Sen. Lincoln Fillmore
Creates a $5 million grant program for a person, company, research organization, or other for the development or deployment of energy storage in Utah.
Support
Senate/ to House
LFA/ fiscal note publicly available
Energy and Climate
HB0218
Construction Code Modifications
Rep. Mike Schultz
Makes amendments to the residential building code to improve energy efficiency in newly-built homes, and adopts the 2018 commercial construction code.
Neutral
Senate/ received from House
Senate/ 1st reading (Introduced)
Clean Air
SB0144
Environmental Quality Monitoring Amendments
Sen. Luz Escamilla
Requires the creation of a data baseline in the Utah Inland Port Authority area in order to track the inland port's environmental impact.
Support
Senate Comm - Favorable Recommendation
Energy and Climate
HCR005
Concurrent Resolution Urging Policies That Reduce Damage from Wildfires
Rep. Raymond Ward
Urges the pursuit of common sense policies to improve forest management practices in order to mitigate climate change's impacts on wildfires and help improve our air quality.
Support
House/ 2nd reading
Clean Air
HB0353
Reduction of Single Occupancy Vehicle Trips Pilot Program
Rep. Joel Briscoe
Creates a 3-year pilot program to fund 15-20 days of free transit fares throughout the UTA service area during the winter inversion season. Includes data collection and reporting to the legislature on transit ridership and vehicles on the road.
Support
House/ 1st reading (Introduced)
LFA/ fiscal note publicly available
Clean Air
HB0288
Critical Infrastructure Materials
Rep. Logan Wilde
Allows gravel pits and mines to be classified as "critical infrastructure", and affects the ability of local communities to weigh in on any expansion or changes to operations of these facilities.
Oppose
House Comm - Held
LFA/ fiscal note sent to sponsor
2019 Air Quality Appropriations
The Governor proposed $100 million for one-time air quality projects in order to reduce emissions by 25% by 2026. This money will be allocated in the form of appropriations, which are funding requests to support a proposed program. Appropriations are debated on throughout the session within appropriation committees and try to make their way to the final budget.
| Strategy | Description | Funding Request |
| --- | --- | --- |
| Free Transit on Mandatory Action Days | Funds 17 days of free transit ridership on mandatory action days. | $1,200,000 |
| Wood Stove Conversion | Provides a 70% match for the cost of replacing wood stoves and fireplaces. | $14,000,000 |
| Freight Switcher Locomotive Repower | Provides a 35% state match for the total cost of switch locomotive repowers. | $2,100,000 |
| Weatherization | Assists with weatherization to reduce energy bills and NOX emissions. | $1,500,000 |
| Air Quality Solution Innovation | Funds air quality innovation incentives. | $1,500,000 |
| Yard Equipment Exchange | Provides an 80% match for replacing gasoline-powered yard equipment with comparable electric models. | $3,710,000 |
| On-road Heavy-duty Replacement | Provides a 50% match for private sector and non-State public sector heavy-duty vehicle replacements. | $15,000,000 |
| Private Electric Vehicle Chargers | Provides a 50% match for the installed cost of electric vehicle chargers at workplaces and businesses. | $4,990,000 |
| Vehicle Replacement Assistance | Provides a 50% match to federally-funded income-based incentives to assist those with Tier 0 and Tier 1 vehicles that fail emissions tests to purchase a newer, cleaner vehicle. | $6,500,000 |
| Air Quality Messaging Campaigns | Provides additional funding for air quality messaging campaigns. | $1,000,000 |
| Increase U-Save Revolving Fund | Establishes revolving loan funding for building energy efficiency improvements, including associated NOx reductions at schools. | $10,000,000 |
| State Electric Vehicle Chargers | Provides funding for electric vehicle charging stations at State facilities. | $5,830,000 |
| State Vehicle Replacement (Pre-2007) | Replaces pre-2007 state-owned lightweight and heavy-duty vehicles, as well as UDOT snowplows. | $26,500,000 |
| Tier 2 - Tier 4 Generators | Upgrades four Tier 2 backup diesel generators to Tier 4 standards. | $1,620,000 |
| Accountable Telework | Retrofits buildings to accommodate communication requirements to allow State employees to telework. | $6,050,000 |
Wondering how to citizen lobby? Get started by watching the video below, sign up to lobby
here
, and reach out to Noah Miterko,
noah@healutah.org
, with any questions!