HEAL Utah is an environmental nonprofit that uses grassroots campaigns and policy-side tactics to protect Utah's natural beauty and our health from environmental threats. We work throughout Utah on clean air, renewable energy, climate change, and nuclear waste issues.
We are proud of our origins as grassroots activists and continue to depend on our supporters to remain vigilant in identifying and resisting environmental threats to the health if Utahans. We ensure that the HEAL community is mobilized by providing education and advocacy trainings and creating avenues for individual voices to be heard.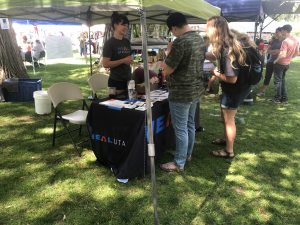 By working with us, you will learn the art of grassroots campaigning, develop political advocacy skills, gain scientific environmental knowledge and expertise, and get to play with our office dogs. We are looking for capable, dynamic, committed, experienced, and passionate individuals. If you are ready to champion our issues and innovate for a better future, apply to one of our open jobs or internships today!
Legislative Intern (Fall and spring only)
Fall Application Deadline: August 8
Spring Application Deadline: December 10
Outreach & Grassroots Intern (Summer only)
Summer Application Deadline: April 16